Other Ways to Give:
We can receive non-cash gifts such as stock, vehicles and land.
You can also send a check to:
PO Box 548, Clarkston, GA 30021
To arrange planned giving:
Email: donate@friendsofrefugees.com
Call: 678-404-0278

Campaign Alert!!
*** Select the "Embrace Mother's Day" from the drop-down menu! ***
The "Mother's Day" campaign has begun!
We are crowdfunding to raise $20,000 for pregnant refugee women in our
One Mother's Story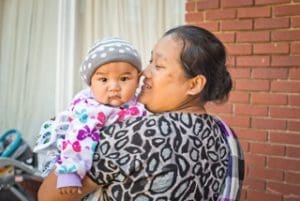 This is our friend, Lay Wah. A few years ago she was pregnant with her fifth baby. Her other births had gone quickly and were healthy with little complication. Although she spoke no English, she was very in tune with her body, and she had not needed to communicate until it was time to push. The nurse called in the doctor, but it took what felt like ages for him to arrive. In the meantime, the nurse was trying to keep Lay Wah from pushing, even holding her legs together. When the doctor finally arrived, he walked into the room and did not speak or acknowledge Lay Wah; he then began using an instrument to the pull out the baby without giving her the chance to push.
She was not given an option for an interpreter, and he never received consent from Lay Way for this intervention. This is why Embrace Refugee Birth is so important: we bridge the gap between mothers and providers and stand with them during the very vulnerable time of pregnancy and birth.
Here's The Numbers:
$1,000 gives a mother 6 birth classes AND provides her with a volunteer to support her during her pregnancy, birth and postpartum.
$750 employs 2 local refugees for one 6-week class series for translations services.
$500 provides a mom with either the 6-week class series OR volunteer support
$250 provides snacks and crafts for 5 Mom's Circles
$100 provides newborn supplies to a new mother
$50 provides snacks for 3 classes