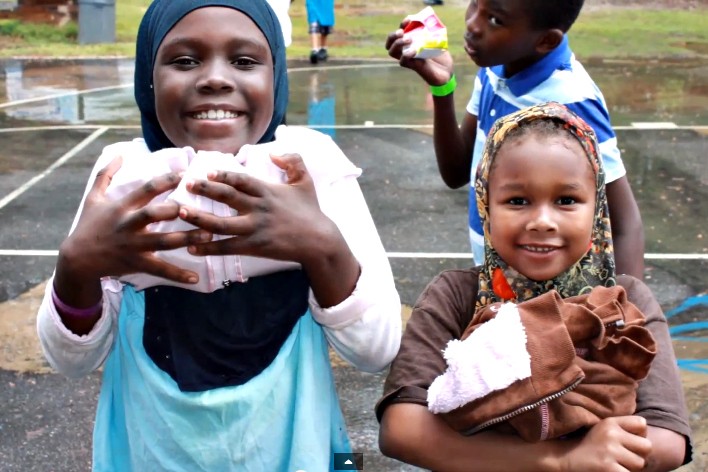 There are four simple ways to get involved with summer camp:
Summer Internship–College students have the opportunity to spend 10 weeks this summer loving and serving Clarkston families through Summer Spectacular. Click here to Go to the Summer Internship Page!
Volunteer–Tutor elementary or middle school students, provide a field trip, help us fundraise, chaperone a Friday Funday activity, coordinate crafts or games, and other small projects as needed. Click here to Volunteer!
Help Cover the Cost–Because many refugee families in our community have low incomes, we only charge parents $40 to send their child to our camp for the entire summer. However, the expense to Friends of Refugees is much greater than $40 (about $400 per child). Please help us keep the cost low for the parents and continue running a quality summer camp. Click here to Give to Summer Spectacular!
Donate or Purchase Items–Along with the cost of operating our summer camp, we are always looking for supplies to facilitate camp activities. These tax-deductible donations can be new or used. Contact Emily Hutchins at Emily@friendsofrefugees.com for our most current list of donation needs and drop-off details.
First Aid supplies (Band Aids, Gauze pads, Rubber gloves)
Hool-a-hoops
Craft beads
Craft string (plastic or clothe)
Hand soap
Dish soap
Trash bags (55 gallon)
Toilet paper
Tape (Duct, masking)
Hand sanitizer (large bottles)
Zip lock bags (Quart and gallon)
Large bags of rice (150lbs total needed)
Set of novels for Middle School Academics
Kids' scissors
Pencils
Nail polish
Play dough
Jump ropes
Personal photo albums
Bug catchers
Lanyards
Small paint brushes
Craft paint
Playing cards for math games (new or used) – 50 sets needed
Uno card decks
Scrimmage jerseys
Craft supplies